One click capturing of Full details of Booth Visitor
Exposure and Qualified Leads
Vendors and agencies are encouraged to take a digital booth at Inbox Expo. With over 1800 visitors expected over 3 days including many guests from startups, new business and established brand side marketers a great opportunity exists to showcase your brand, get your message in front of a qualified audience and tell your story one to one with attendee's through live video chat.
In keeping with our mission to be inclusive our booths are priced such that they are accessible to even the most cost conscious startup, the question if you are in the business of email: can you afford NOT to take a booth?
Some of the benefits of having a booth include:
Showcase your offer with a pre-recorded video promoted to all attendee's for the duration of the event
Private chatroom for your booth where you can interact directly with your booth visitors
You can have multiple staff in your booth or even host your own private roundtable
Booth visitors are encouraged to provide you their full contact details with a single click strong CTA in the booth
Brand representation before and after the event on emailexpo.com  and the hopin.to registration site
Provide attendee's digital SWAG: PDF's, voucher codes, special extended free trials
Opportunity to provide Expo specific specials and deals and potentially have these singled out for additional promotion
6 earlybird tickets to provide to your clients and/or staff 
LIMITED: 1 Free VIP Ticket to be given away via a promotion or similar that you promote via social media
Your participation will be included by way of mention in a minimum of 3 press releases surrounding the event
We will promote your participation across all our social media channels: Linkedin, Twitter and Facebook
You will be provided a guaranteed free listing for life on emailexpert.com and early access for managing your listing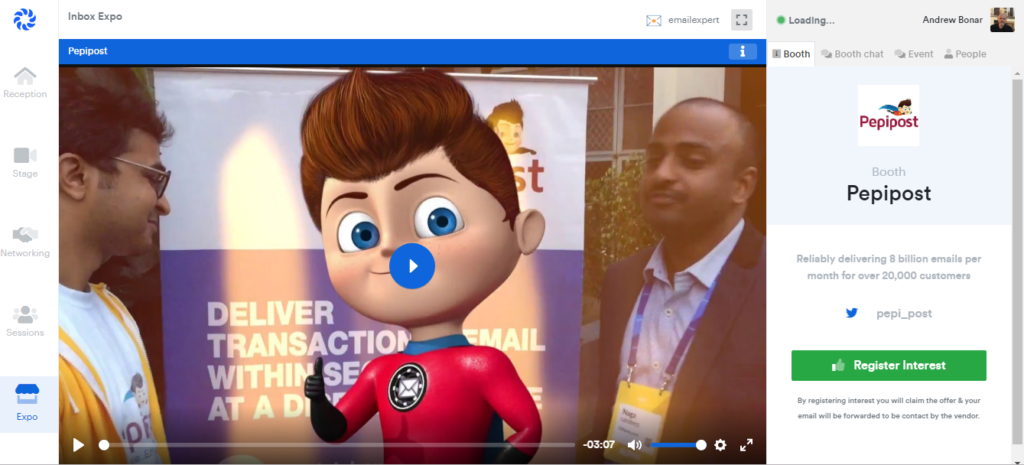 Our virtual booths allow you a great opportunity to showcase your offering, have live individuals present to chat online, or indeed conduct a live video presentation direct from your booth. When you are unable to interact directly you can switch to having a demo or recorded video play, The whole time any visitor can share their contact details with you, with a single click in your booth,
We are hoping for 75 agency, vendor and consultant booths to be filled by the time we go live. We have 18 vendor booths at this time.
Digital booths are available for $250 for the full 3 days (price subject to change without notice). Other sponsor opportunities exist please contact inboxexpo@emailexpert.org